About Cuddles
Cuddles provides quality inexpensive bedding for your maximum comfort and rest. Cuddles has operated for over a decade in the bedding industry, supplying high quality linen and bed-sheets to  hotels and private clients. Our decade of  experience in supplying the hospitality industry shows our commitment and ability to bring the best fabric to your household.
Our Fabric
Soft Washed Cotton Fabric
Cuddles custom made bedsheet are made from organic cotton. The fabrics are pre-washed for a soft feel from the start. Our bedsheet fabric is fashionably 'creased' as the fabric is washed prior to the production process. This particular step is a simple technique that softens the fabric texture and increases its absorbency, giving it a lived-in appearance, like that of a favourite garment.
Material used: 100% Organic cotton
Washing Instruction: Machine Wash
Hotel Grade Fabrics – Top of the Line
Cuddles carefully handpicked Hotel Grade fabric for our homeowners who are particular about bed linen. At 1000TC, the fabric is in a class of its own. The softness and feel is what you will get only at 5 stars and 6 stars hotel. We at Cuddles know that our customer deserve the best.
Material used: 100% Organic cotton
Washing Instruction: Machine Wash
Our Material
100% Pure Cotton Material
The most commonly use material for the bedsheet that our clients use is 100% Pure Cotton with 205 thread counts per inch square.
Flame Retardant Material
We also provide the Flame Retardant fabrics for the Oil and Gas industry. Our fabrics has BS7175 source 5 certification which is require for this specific industry.
What is 100% pure cotton?
In the market there are retailer selling very cheap bed-sheet set, have you wonder why makes the bed-sheet set so cheap? The answer is basically the fabric used to manufacture the bed-sheet.
The fabrics that are commonly use in the manufacturing of bed-sheet in the market are the following 3 types :
100% Pure Cotton ( Grade A )
Poly Cotton ( Grade B )
Polyester ( Grade C )
For easier identification, we have put grading beside the material as shown above. ( Grade A being the best and Grade C being the worst to sleep on and Grade B is in between ).
100% Pure Cotton Characteristic
Breathable:  This natural fibre lets your skin breathe. It also absorbs moisture to keep your body temperature stable.
Soft, but strong: The fibres are less abrasive than polyester, so it feels super soft on your skin.  That being said, some cotton fabric is designed to be strong and rough, like heavy duty cotton canvas. It all depends on the weave and the finish.
Great for sensitive skin: We spend almost a third of our time sleeping, hence cotton which is so much softer allow those with sensitive skin tolerate cotton better than polyester. With organic products becoming increasingly popular, you can find cotton fabric made with very little chemical processing.
Biodegradable: Cotton will break down over time. Cotton isn't as durable as polyester in the long run.  However, with proper care, we can prolong the life of the bed-sheet. Try to avoid prolonged exposure to excessive sunlight and moisture. Being environment responsible company, we actively promote biodegradable products for use on manufacture of our bed-linen.
Polyester Characteristic
Long lasting: Polyester is a man-made fibre.  It's very resilient and can withstand a good deal of wear and tear.  It's basically plastic. In fact, plastic bottles can be recycled into polyester fabric. Polyester is not compostable, meaning it doesn't break down well in soil.
Less fading: Polyester holds dye well to prevent fading, but doesn't produce as "rich" of a colour as cotton.  High-quality polyester holds its shape well and doesn't shrink.
Less wrinkling: Polyester bed-sheet is more resistant to wrinkles than cotton. This is great for anyone who dreads wrinkle bed-linen.
Non-breathing: Polyester doesn't let your skin breathe like cotton. For example, if you sleeping on a polyester bed-sheet on a warm night, you might find yourself pretty sweaty.
Polyester Cotton Characteristic
Combination of both
Our Custom Made Uniform
At Cuddles, we have been supplying uniforms to various industries. We also supply scrub to Nursing Homes. 
The order process is very simple. Just let us know the rough idea that you are looking for and our designers will come up with the designs. We will provide the sketch to you. It will look something as follow: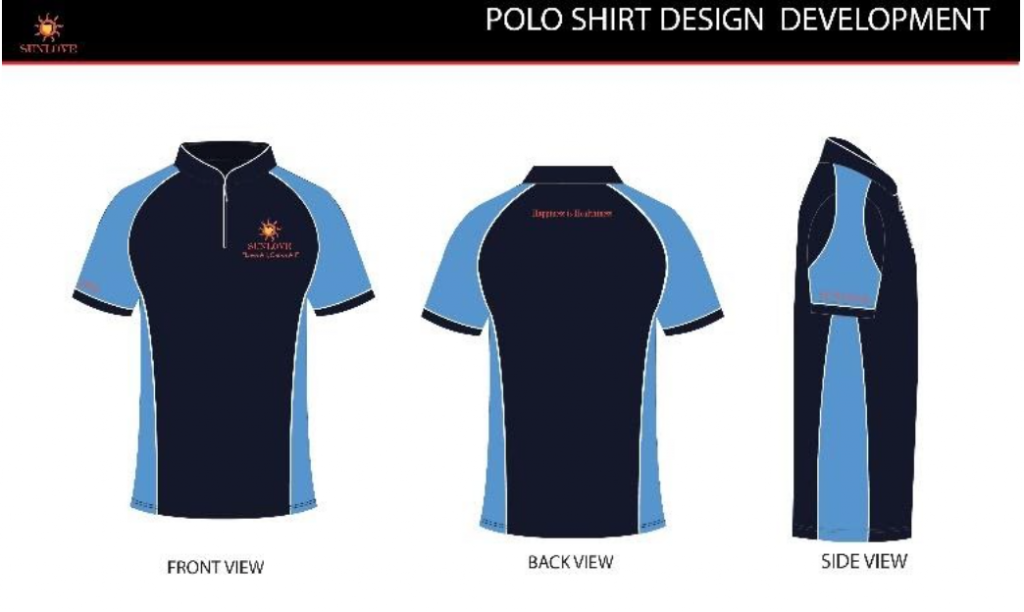 Be it Normal Collar or China Style Collar, just let us know your preference
As uniforms are all custom made, every fine details of the bed linen can be modify to meet your specific needs.
Material
Dri-Fit Material
The most commonly use material is Dri–Fit Material at 150g. It can dry up very fast and ensure that you stay comfy
Combed Cotton
Pure Cotton
Pure cotton is the most breathable and absorb sweat easily.
We are just a phone call away. Give us a call at 9105-9749 to find out more. You will be amazed what we at Cuddles can offer.
Our Clients